Fire Resistant Door Range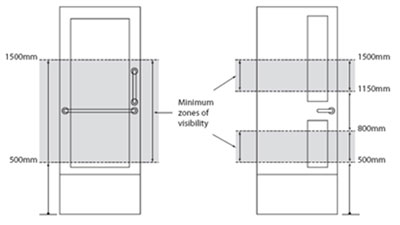 A fire door is used as part of a passive fire protection system to reduce the spread of fire or smoke between rooms and to enable safe escape from a building. We can provide both FD30 and FD60 rated door kits complete with associated ironmongery.
For public buildings, schools and other commercial projects we offer a range of single and double leaf FD30 and FD60 doors. They are available in a choice of finishes including primed for painting, veneer and laminate. Surfaces can be engraved with a selection of designs or machined for vision panels.
Vision panels
Vision panels are used within doors to let light into a room or for safety (i.e. allowing people using the door to be seen). Vision panels are generally positioned towards the leading edge and with vertical dimensions including at least the minimum zones shown, either with or without a horizontal rail.
All entrance doors, doors across corridors and within lobbies, and where appropriate internal doors require vision panels for door leaves and side panels wider than 450mm.
Below is just a small selection of some of our Fire Resistant Doorset Range - feel free to contact us regarding any of our products.