Why Use a Factory Hung Doorset - Considerable On-site Benefits are to be had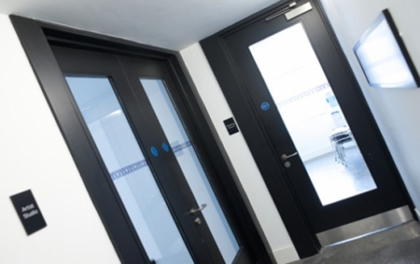 • Components machined and assembled in a controlled setting - removing these operations from site and ensuring factory tolerance performance.
• Accuracy of CNC machining and factory assembly - thus providing a high quality finished product.
• Delivery scheduled much later in the build programme - reducing the chances of damage on-site prior to handovers.
• Simplified and quicker installation - doorsets can be fitted using semi-skilled labour.
For architects...
• Selection of doorsets simplifies the specification process. Structural opening sizes are standardised, allowing drawings to be prepared simply and accurately.
For quantity surveyors...
• Detailed itemisation of material requirements is negated and the number of variable components is significantly reduced.
For housebuilders and developers...
• As well as reducing the number of components to order and store on site, there is a simplified installation process and a more consistent higher quality finished product.
For registered social landlords...
• The specification of door systems ensures that a dependable door installation is achieved and low maintenance benefits are maintained over the long term.
Contact Us today if you have any further questions or enquiries