Range of Standard Sizes
Creagh Precision Joinery doorsets come in two standard heights and up to eleven different widths. Whilst the majority of the doorsets we offer can be supplied in bespoke sizes the most cost-effective method is generally to choose from our range of standard sizes.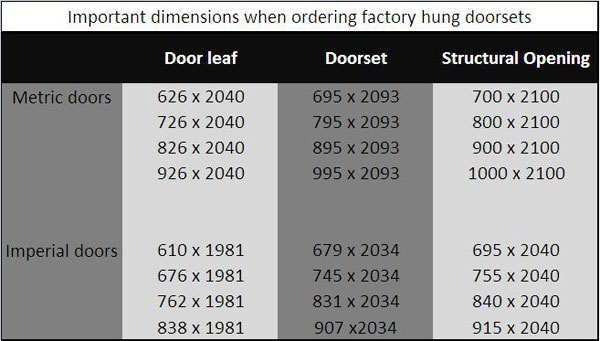 Fitting Instructions for our Doorsets
1) Check size, handing and specification of doorset.
2) Insert the doorset into the structural opening.
3) Make sure the frame hinge side is vertical in all directions with a spirit level when you wedge it in place. Adjust the frame by tightening or releasing the wedges.
4) Check that the door stays in the position you want and margins are equal. Fix hinge side with wall screws.
5) Fix the handle side using wedges.
6) Screw the handle side and fine-tune using the frame screws.
7) Check that the door closes easily and engages the keeper.
8) Cut the protruding wedges.
9) For sound reduction or fire protection fill gap with mineral wool or expanding foam.
10) Pin factory mitred architraves ensuring equal margins and tight joints.
Doorset Handings
Handing of a doorset is determined by the position of the hinges on a single leaf when seen from the push side. The handing of doorsets with unequal leaves is determined by reference to the larger leaf. The Master is the first opening door leaf which determines the handing of equal and unequal double doors.